Learning Objectives:
Discuss communication skills and techniques needed to effectively work as a team during an emergency
Emergency room supplies and equipment and what they are used for
How to perform triage on dogs and cats
Discuss primary assessment and its importance in advanced life support
Oxygen and fluid therapy and when it is used
What is cardiopulmonary arrest and how to perform CPR on dogs and cats
Ventilated vs manual CPR including compression to breath ratios
Post cardiopulmonary arrest care
Course participants will receive the following:
A copy of our 88+ page full color Canine and Feline Advanced CPR and Emergency Care (E-book)
Upon successful completion and receiving a passing score on all assessments, participants will be able to immediately print their official certificate. Clinics may also request a customized lobby certificate to hang in their waiting room to promote that their staff is certified.
Upon completion of this class participants will be certified in Canine and Feline CPR and Advanced Life Support**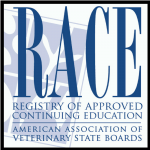 "This program 779-32628 is approved by the AAVSB RACE to offer a total of 0.00 CE Credits (0.00 max) being available to any one veterinarian: and/or 3.00 Veterinary Technician CE Credits (3.00 max). This RACE approval is for the subject matter categories of: Category Three: Non-Scientific-Practice Management/Professional Development using the delivery method of Non-Interactive-Distance. This approval is valid in jurisdictions which recognize AAVSB RACE; however, participants are responsible for ascertaining each board's CE requirements. RACE does not "accredit" or "endorse" or "certify" any program or person, nor does RACE approval validate the content of the program."
Although Pet Emergency Education teaches the most current industry standards for animal CPR, we are in no way affiliated with the RECOVER Initiative, its affiliated organizations or its RECOVER training program.