Course Registration Fee- $24.95 each course
Our condensed, single module courses offer a more concise educational experience. These courses are designed to take approximately one hour each to complete and contain material that is more specialized in nature. Like our deluxe courses, you do not have to finish the course in one sitting and may log in and out as much as you like. Courses expire 60 days from date of purchase.
Registration includes an official certification certificate and a 2 year subscription to our online resource center.
Each course contains one module with a variety of assigned readings, activities, training videos and one comprehensive final exam. Courses are asynchronous which means that there are no live components and participants can complete the course at their own pace, logging in and out as much as they like however they must complete the course within 60 days or it will expire.
Our Emergency First Aid for Reptiles provides an introductory overview of how to manage common medical emergencies when they happen to reptilian species such as lizards, snakes, turtles and more.
Learning objectives:
Differences between domestic reptile species
Safety techniques when working with sick and/or injured reptiles
How to perform emergency first aid on a reptile experiencing a life threatening medical emergency
How to restrain and properly transport sick and/or injured reptiles
Learn about the importance of the pet first aid kit and how to use the materials in it during an emergency
How to manage and provide first aid for many common medical emergencies such as burns, wounds and more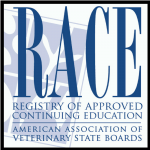 "This program 20-769747 is approved by the AAVSB RACE to offer a total of 0.00 CE Credits (0.00 max) being available to any one veterinarian: and/or 1.00 Veterinary Technician CE Credits (1.00 max). This RACE approval is for the subject matter categories of: Category Three: Non-Scientific-Practice Management/Professional Development using the delivery method of Non-Interactive-Distance. This approval is valid in jurisdictions which recognize AAVSB RACE; however, participants are responsible for ascertaining each board's CE requirements. RACE does not "accredit" or "endorse" or "certify" any program or person, nor does RACE approval validate the content of the program." 
Our Emergency First Aid for Birds course provides an introductory overview of how to manage common medical emergencies when they happen to pet birds including parrots, cockatiels, chickens and more.
Learning Objectives:
Differences between domestic avian species
Safety techniques when working with sick and/or injured birds
How to restrain and properly transport sick and/or injured birds
Learn about the importance of the pet first aid kit and how to use the materials in it during an emergency
How to perform emergency first aid on a bird experiencing a life threatening medical emergency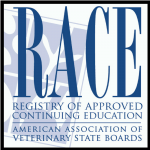 This program 20-769755 is approved by the AAVSB RACE to offer a total of 0.00 CE Credits (0.00 max) being available to any one veterinarian: and/or 1.00 Veterinary Technician CE Credits (1.00 max). This RACE approval is for the subject matter categories of: Category Three: Non-Scientific-Practice Management/Professional Development using the delivery method of Non-Interactive-Distance. This approval is valid in jurisdictions which recognize AAVSB RACE; however, participants are responsible for ascertaining each board's CE requirements. RACE does not "accredit" or "endorse" or "certify" any program or person, nor does RACE approval validate the content of the program."